To make things easier for our customers, we accept payment for our photography courses via credit or debit card through PayPal.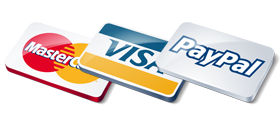 We only accept credit or debit card payments via PayPal. You can sign up via the registration form found at the individual workshop page.
We've prepared a short guide on how to make payment with your credit or debit card directly without the need to create any account on PayPal.
Sales & Refund Policy
To ensure your enrollment, fees must be paid in full within 3 days of receiving our invoice or before the start of the workshop, whichever is earlier.
If a workshop that you've booked is postponed or cancelled due to insufficient bookings, you can choose to join the workshop on the alternative date offered by us, or to receive a full refund of the workshop fees.
In the event that your instructor is injured or becomes too ill, or has an extreme emergency that prevents him/her from conducting the workshop, Phocus will make every effort to assign another instructor to conduct the workshop.
If for whatever reason the above is not possible, workshops with wet weather postponement arrangement will be postponed accordingly. For workshops without wet weather postponement arrangement, Phocus will offer you an alternative date to reschedule the workshop. If that is not satisfactory to you, you can choose to receive a refund of the workshop fees. Refunds are pro-rated for a series of workshop that has already begun, or in full for a workshop that has yet to begin.
For private sessions, you may postpone and reschedule your session by giving your instructor 15 days prior notice. In the event of illness or emergency that prevents you from attending a scheduled session, you should inform your instructor as soon as possible; we may allow you to reschedule the session at our discretion.
There will be no transfers, make up lessons or refund should you be absent for any of the lessons.
Workshop fees once paid cannot be refunded for any reasons other than the above.