Witness and photograph amazing performances where humans become gods in Gods Own Country, Kerala in India S$1200 (see discount, course outline or sign up now)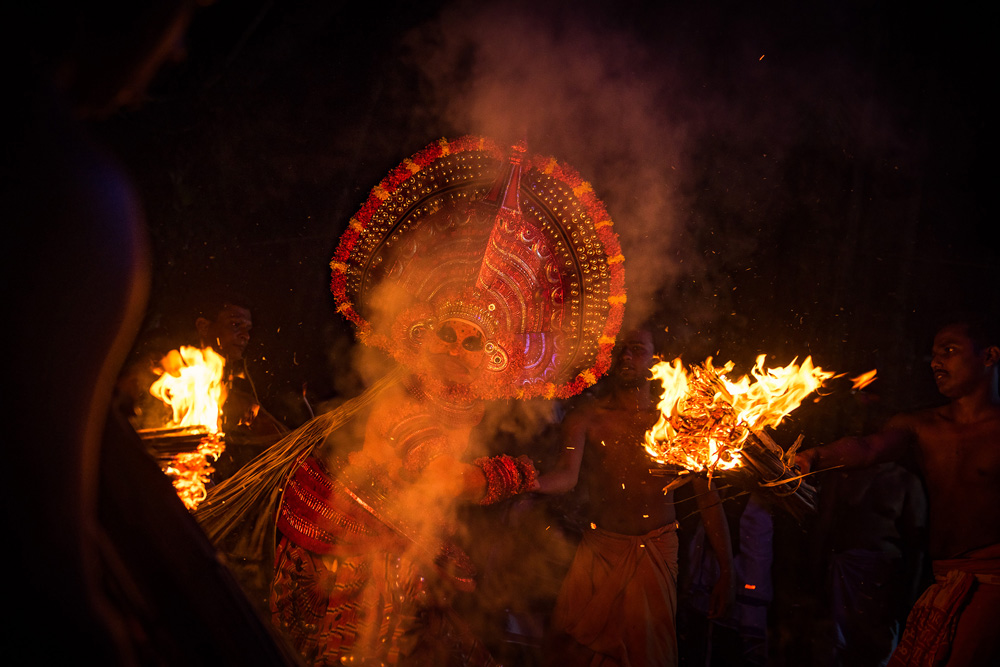 One of the many reasons Kerala gets referred to as "God's own Country" could be attributed to these performances in the northern districts of Kannur and Kasargod. While there are hundreds of varieties Theyyam performances that take place here, they have one thing in common — humans dressed up in the most vibrant and eye catching attires and performing for the gods. And they do so in the best way possible, to become one themselves. What better way to enact a role than to become one with it.
On this workshop, you'll shoot these performances while also having access to the preparation process where the artists don their make up and attire prior to the performances. It's a perfect opportunity to document an un-choreographed, unplanned and unpredictable performance where you're challenged technically and aesthetically to capture the god's dance. The instructors will be with you to guide you on the places to be, the moments to look out for and the potential challenges when documenting this overpowering performance.
Small Groups, Big Fun, Great Photos!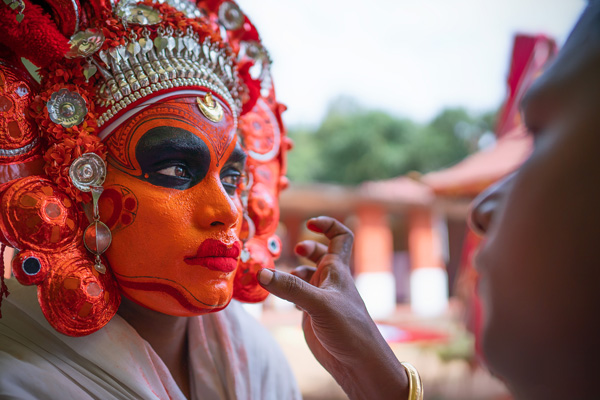 We are big on small groups. Ensuring everyone has space to shoot and access to the instructor is top priority on all our overseas workshops. We'll bring you to the right location at the right time and with the right equipment. While we can't guarantee the number of worshippers at the performance, we can definitely guarantee there will be no more than 6 signups for our workshop!
Mingle with the Locals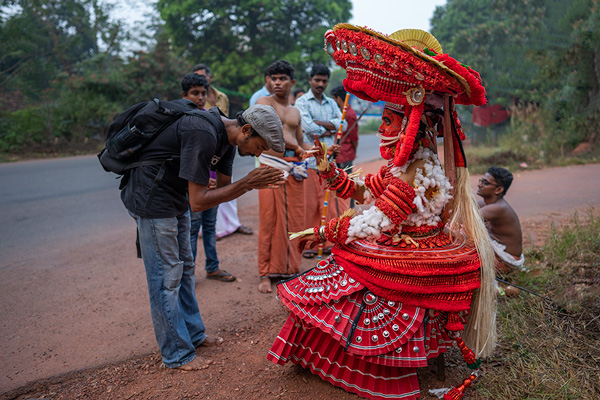 We're not parachute photographers ourselves so our photography workshops go beyond just capturing cool photos. We encourage participants to interact with the locals and immerse themselves in the culture during the workshop.
Shoot under the instructor's guidance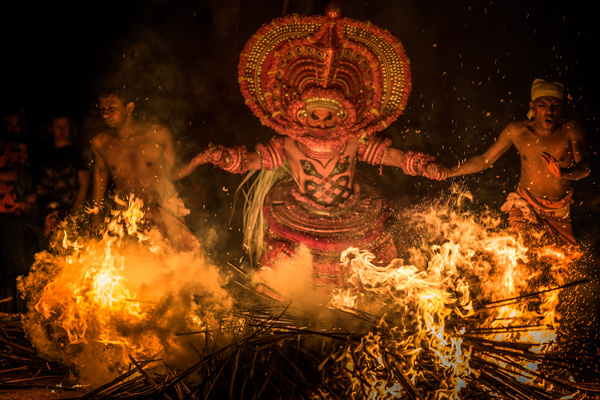 Not just for outdoor shoots, but also for post processing and organising the picture library, the instructor is at your service throughout the workshop and at no point will you feel left out or neglected.
Our instructors are down to earth and ready to rough it out to ensure you get the best travel experience. Feel free to pick their brains after the shoots, during meals and drinks. Or just do your own thing, its a free world here! There is no consultation hours or office hours. We're yours, throughout the trip!
Most importantly, have lots of fun!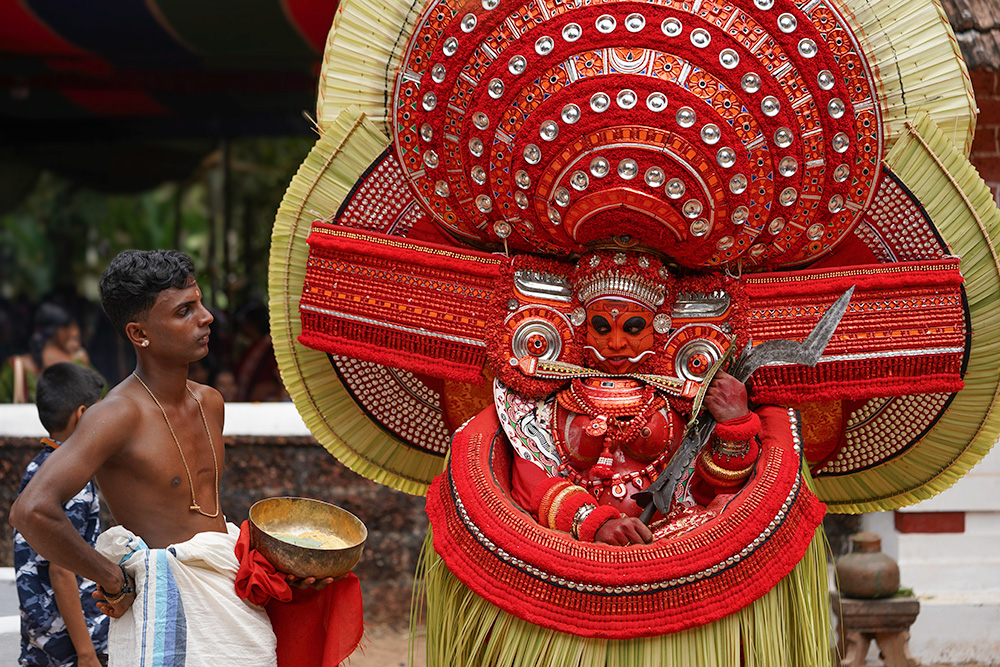 We've had entire groups going on the trip for the first time as strangers, only to return as friends and go on to travel together for subsequent overseas workshops! With similar mindsets and simple goals (i.e. great photos and good fun!)you'll form a bond that will see you joining hands again for future trips and workshops. We do the meticulous planning and organising, you just turn up, have fun and go back with awesome photos!









---
Course Outline
Lesson Details
Timings and Activities
Workshop Briefing
Location: the Hive Lavender, 1 Kallang Junction, Singapore


Briefing from 730–830pm

Equipment check for cold weather and mild trekking


Camera, lenses and tripod check


Food and dietary queries


Checklist for packing


indemnity and Insurance



Day 1–4
Location: Arrival in Kannur, Kerala, India


Theyyam Performances

We will be stationed at Kannur and shooting the performances in the villages nearby in Malabar region.

The schedules are subject to the local lunar calendar so the timings may vary from early morning to late night.

Course Requirements
Participants must bring their own camera (DSLR or mirrorless equivalents with manual controls), laptop with Adobe Lightroom and Adobe Photoshop installed (we recommend CS4 or later). A 7‑day trial for Adobe Lightroom CC is available from Adobe. A tripod is a must for this workshop. A moderate level of fitness would be required as this workshop involves trekking over short distances and climbing steep slopes. No hiking equipment is needed. Graduated filters while not mandatory would be nice to have on this workshop.
---
Fees
The workshop fees of $1200 includes:
Airport transfer to and from Kannur Airport
All land transport cost during the course of the workshop
Workshop Fees
Accommodation (twin sharing) at Kannur for 3 nights and 4 days
Breakfast
The fees does not include:
Air Tickets to and from Singapore and Kannur
Visa fees (if applicable)
Insurance (Compulsory)
Meals and drinks (breakfast is included)
Personal Expenditures for food and medicines
Tips and Gratuities
Course Schedule
January 2023 Class (AVAILABLE NOW FOR BOOKING)
From 02 January to 05 January 2023
23 December 2022: 7.30–9.00pm: Workshop Briefing in Singapore
02 January 2023: Depart Singapore
02 January 2023: ~ 1pm: Arrive at Kannur
03 January 2023: Workshop
04 January2023: Workshop
05 January 2023: Depart Kannur
---
See the Course Outline for details on the activities and timings of the workshop.
---
Promotions & Discounts
Bring-a-friend Promotion — $30 off Get $30 off your course fee when you sign up with your friends and make payment together.
---
Sign up for Theyyam — The Dance of The Living Gods of Kerala